Okay, my one month aniversary with my boyfriend is
tomorrow, and it the longest relationship I've ever been in, and I couldn't buy him things, so I made stuff…is that okay?
Well, there are two parts to that question. First, is it okay that I made stuff instead of buying? And…look at the things I made, okay?
First, I wrote this poem:
'I cannot tell you how much I love you
it would take far too long
but I'll say it again and again:
you are my whole world and my best friend
and when I'm with you,
nothing can ever be wrong.
Thirty-one days together.
To me, that is a surprise.
I never thought I would see
love for me
in someone else's eyes…
but I do in yours.
Happy anniversary.
Hoping for many more.'
And then, I made this :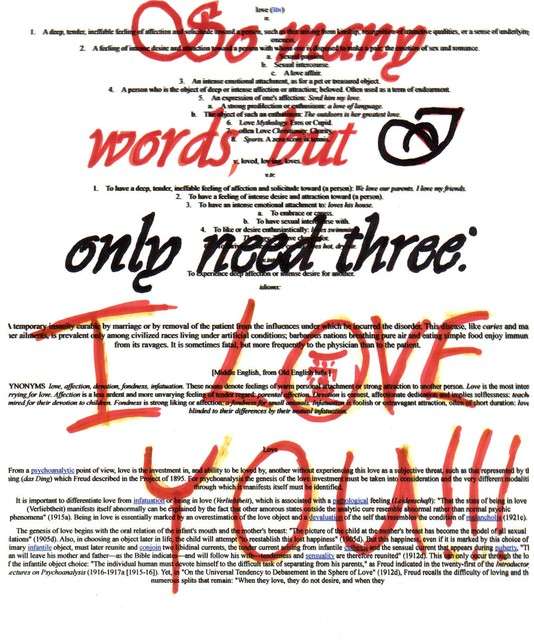 (The tiny words in the picture are dictionary definitions of 'love')
What do you guys think of both questions?
This open post was written 6 years ago | V/U/S: 22,668, 25, 12 | Edit Post | Leave a reply | Report Post
Reciprocity (0)
Since writing this post PersonalPandaParty may have helped people, but has not within the last 4 days. PersonalPandaParty is a verified member, has been around for 6 years, 6 months and has 210 posts and 2,901 replies to their name.
Replies (25)
Where were you?
Mouse over the map for 2 seconds to see an expanded, interactive view
A logged in and verified Help.com member has the ability to setup a Friends List and invite others to help with posts.