How do you remove bruises?
Like, huge ones.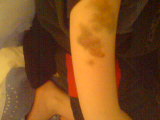 all that from birthday beats…oh well lol at least it doesnt hurt. it is just annoying and ugly lol
in actual fact, you cant see it properly in this picture. the one further from my sleeve is redder
oh sorry for the millions of edit. but the bruises have grown since like 2 days ago
this is the photo i took today
well that is
yknow what i mean
This open post was written 6 years ago | V/U/S: 5,842, 16, 5 | Edit Post | Leave a reply | Report Post
Reciprocity (0)
Since writing this post Suc XVIII may have helped people, but has not within the last 4 days. Suc XVIII is a verified member, has been around for 6 years, 10 months and has 280 posts and 4,798 replies to their name.
A logged in and verified Help.com member has the ability to setup a Friends List and invite others to help with posts.