Mini-Profile
***
OK, I'm unsubscribing. If anyone wants to discuss this further, shout it.
***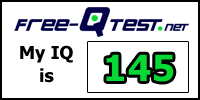 Free-IQTest.net - Free Online IQ Test
Your Dominant Intelligence is Logical-Mathematical Intelligence
You are great at finding patterns and relationships between things.
Always curious about how things work, you love to set up experiments.
You need for the world to make sense - and are good at making sense of it.
You have a head for numbers and math … and you can solve almost any logic puzzle.
You would make a great scientist, engineer, computer programmer, researcher, accountant, or mathematician.
What Kind of Intelligence Do You Have?
You Are 36% Evil
A bit of evil lurks in your heart, but you hide it well.
In some ways, you are the most dangerous kind of evil.
Your Brain is Yellow
Of all the brain types, yours is the most intellectual.
You crave mental stimulation, and your thoughts tend to very complex.
Your thoughts tend to be innovative and cutting edge, though many people don't understand them.
You tend to spend a lot of time thinking about science, architecture, and communication.
Your IQ Is 145
Your Logical Intelligence is Genius

Your Verbal Intelligence is Genius

Your Mathematical Intelligence is Genius

Your General Knowledge is Genius
Your Personality Profile
You are elegant, withdrawn, and brilliant.
Your mind is a weapon, able to solve any puzzle.
You are also great at poking holes in arguments and common beliefs.
For you, comfort and calm are very important.
You tend to thrive on your own and shrug off most affection.
You prefer to protect your emotions and stay strong.
The World's Shortest Personality Test
You Are a Realist
You don't see the glass as half empty or half full. You see what's exactly in the glass.
You never try to make a bad situation seem better than it is…
But you also never sabotage any good things you have going on.
You are brutally honest in your assessments of situations - and this always seems to help you cope.
Are You An Optimist or Pessimist?
Star Wars Horoscope for Sagittarius
You are superbly wise and have been known to spread your wisdom widely.
You are impatient and pushy when people take your teachings too lightly.
And your philosophical side always peeks through.
Star wars character you are most like: Yoda
What Is Your Star Wars Horoscope?
What Your Favorite Color Black Says About You:
Timeless — Stylish — Sophisticated
Overpowering — Intimidating — Dominant
Perfectionist — Controlling — Competent
What Does Your Favorite Color Say About You?
Your Career Personality: Independent, Insightful, and Ingenious
Your Ideal Careers:
Architect
Artist
Business strategist
College professor
Computer programmer
Mathematician
Neurologist
Philosopher
Photographer
Video game developer
The Quick and Dirty Career Test
Where did you grow up?
None of your business
Where do you live now?
None of your business
What is the highest level of education you have attained?
None of your business
What subjects did/do you enjoy the most at school?
None of your business
What's your favorite sport or sports?
None of your business
What kinds of jobs have you held? Industries too!
None of your business
What hobbies are you into?
None of your business
What causes are you concerned about today?
None of your business
If you claim a political party affliation, which is it?
None of your business
Which religion (if any) do you follow?
None of your business
AKA
AnishK◊, An¡shK↵™, An¡shK↵, ∧n¡shK, An¡shK, An ¡ shK, An¡shK, AnishKrishnan.