Mini-Profile
http://www.alphabounce.com?ref=0Sully
Thats a really fun game…
14 years of S.A.R. (Search And Rescue). I like dealing with tough situations. The easy ones are done to quickly. I need to exert my brain to feel any sort of accomplishment.
I have been fencing and shooting bows for 20+ years and enjoy outside activity. I have no depth perception and so dislike any sport using a ball or any other small flying objects coming at me. I am a Cancer survivor (the easiest one to survive, Thyroid Cancer) and have had 19 surgeries for various reasons. Most of them before I turned 16.
I have found 49 live people in S.A.R. and been sent out on 28 body searches (25 found). I have talked some people out of suicide (not something I ever want to have to do again). And have had my life saved by a man who lost his sight and legs for doing it.
Odd fact: I know 64 people named Dan
Sunflower made me do it…

70.9/100Rate My LifeRateMyLife.net - Find out if you suck at life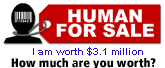 HumanForSale.com - For sale by owner!
Created by OnePlusYou
Where did you grow up?
Vancouver
Where do you live now?
Tianjin China
What is the highest level of education you have attained?
College
What subjects did/do you enjoy the most at school?
English, Science, History (of war and warfare developement)
What's your favorite sport or sports?
Fencing, Archery
What kinds of jobs have you held? Industries too!
Fencing and Archery instructor, Customer Service, Inside and Out Side Sales, Airline
What hobbies are you into?
Fencing, Martial Arts, Reading, and Hiking/camping
What causes are you concerned about today?
Education, academic and moral.
If you claim a political party affliation, which is it?
none really... wait... Affliation???
Which religion (if any) do you follow?
I have been not so jokingly refured to as a Zen Tao Cathlic.