Mini-Profile
Heres a pic of my PC
http://heywhatsthebuzz.com/thespot/in...
http://s452.photobucket.com/albums/qq...
Heres a pic of my old truck. :-)
http://s452.photobucket.com/albums/qq...
This is a link to a site and a new forurm that I'm on have a look
http://heywhatsthebuzz.com
http://heywhatsthebuzz.com/thespot
http://tinychat.com/heywhatsthebuzz
Those who want to learn will, and those that won't learn, Hate:
I'm a carpenter by trade and own my own small business.  I have been doing pc repair as a side job for a while and starting to head in that direction as a alternitive source of income.  I can give help in pc repair, home remodeling and other topics.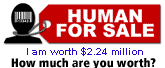 HumanForSale.com
Your Dominant Intelligence is Logical-Mathematical Intelligence

You are great at finding patterns and relationships between things.
Always curious about how things work, you love to set up experiments.
You need for the world to make sense - and are good at making sense of it.
You have a head for numbers and math … and you can solve almost any logic puzzle.
You would make a great scientist, engineer, computer programmer, researcher, accountant, or mathematician.
Where did you grow up?
Small city in North Dakota
What is the highest level of education you have attained?
High shcool grad
What subjects did/do you enjoy the most at school?
anything to do with math and science
What's your favorite sport or sports?
Football and Nascar
What kinds of jobs have you held? Industries too!
I've been doing carpentry work mostly and now I'm a comercial project estimator.
What hobbies are you into?
fishing, woodworking
If you claim a political party affliation, which is it?
republican
Which religion (if any) do you follow?
I dont beleive in any one religion. Religion causes most if not all of the problems and wars in the world. As an example, start a conversation on different Religions and watch how fast the evel in a person comes out. Theres nothing else in the world that will cause such hate and anger than Religion. Remember all Religions are man made therefor they all are flawed.