Mini-Profile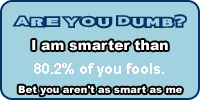 Am-I-Dumb.com - Are you dumb?
Hi everybody! 14 years of age. I love to read, write (not that I am any good at it), fence, do archery, watch movies and this site. I am terrible at dancing, only have two legs left out of the 18 I had!! Grr on those leg mosters.(For the record, any type of dancing I do is the cha-cha and hip hop) Never, ever wear matching socks. The ones in my Avatar are not mine, as they actually match, but I have some excactly like them and more. Toe socks rule! I have glasses, but I don't look to completely dorky in them, and being legally blind without them.
Strange/baggy is my style. No skin tight cloths (I can hear the groans! lol), tie-die things, jeans, sweatshirts. If I were to hi-light my hair, it would be blue or orange. Orange is my new favorite color!! **Please hold applause** Also, just so you guys know, I am sarcastic a lot. Usually it will be obvious, or I will tell you if I am, so nothing to rude or anything like that.
I will try to help people as much as I can, If you let me.
This shows you how good a cook I am!
http://www.quizrocket.com/static/imag...
Where did you grow up?
Around the US
Where do you live now?
Colorado
What is the highest level of education you have attained?
JR High school
What subjects did/do you enjoy the most at school?
choir, english and history
What's your favorite sport or sports?
fencing, archery, soccer, track
What kinds of jobs have you held? Industries too!
baby sitting, painting
What hobbies are you into?
reading, rock-climbing, karate, horse back riding
What causes are you concerned about today?
global warming, abusive relationships