Mini-Profile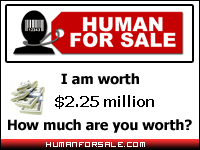 HumanForSale.com - Online Quizzes
Psalms 10:4 The wicked, through the pride of his countenance, will not seek after God: God is not in all his thoughts.
Where did you grow up?
Classified
Where do you live now?
Classified
What is the highest level of education you have attained?
Classified
What subjects did/do you enjoy the most at school?
Classified
What's your favorite sport or sports?
Classified
What kinds of jobs have you held? Industries too!
Classified
What hobbies are you into?
Classified
What causes are you concerned about today?
Classified
If you claim a political party affliation, which is it?
Classified
Which religion (if any) do you follow?
Classified
AKA
Warren Jay, Wren[ilyjLv], warren*jay*, TheMariner, Mariner.